The Las Caras de Mexico(Faces of Mexico) Golf Courseis San Felipe's first and only golf course. This 18-hole championship course offers players a truly unique opportunity to play one of the Baja's most extraordinary courses.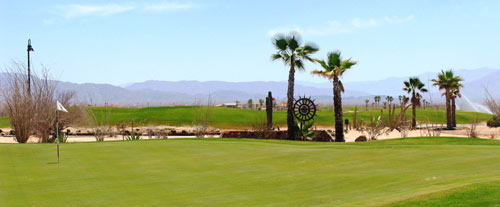 Designed by world renowned golf architect, Bradford Benz, the golf course combines the archaeological, historical, and social Mexican culture with the natural beauty of the surrounding area. Life size bronze statues depict famous historical Mexican figures on throughout the course thereby giving each hole a unique historical significance.
Best of all, the course is situated in one of the most magnificent settings in the world. With the neighboring mountain range featuring peaks as high as 10,000 feet you will play under a cathedral of 270 degrees of mountain ranges. Because the terrain gently slopes towards the Sea of Cortez, most fairways and holes have magnificent sea views as well with several holes located right above the beach on the Sea of Cortez. Add in warm year round sunny weather and you're assured that you'll be afforded ample opportunity to golf.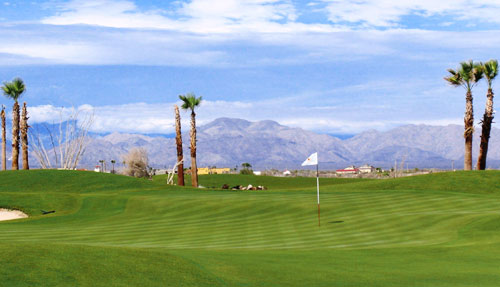 You will also be pleased to learn that extensive efforts were taken to ensure that the golf course was incorporated into the pristine environment with minimal impact. Plants that had to be removed were dug out by hand and transferred to a nursery rather than simply run over by a bulldozer. Additionally, El Dorado Ranch in conjunction with environmental and golf consultants planted a unique hybrid of salt tolerant paspalum grass. Now previously unusable water sources that were too salty for human or agricultural use are used to water the course thereby not depleting the precious environment of fresh water. Players love the casual pace of play and are rarely rushed by other parties adding further enjoyment to their golf experience.When you combine the quality of the golf course, the beautiful setting, and casual pace of play, it's no wonder that those who have been fortunate enough to play the course regard it as the Baja's best kept secret.
THE GOLF COURSE STATISTICS: 18-hole Championship; 7,202 yds.
Halophyte turfgrasses: Seashore Paspalum; SeaDwarf variety
Greens: 7,000 sq.ft. average size; Seashore Paspalum; SeaDwarf variety
Tees: 5 decks per hole; Seashore Paspalum; SeaDwarf variety
Fairways: 40 acres; Seashore Paspalum; SeaDwarf variety
Roughs: Seashore Paspalum; SeaDwarf variety
Bunkers: 80
Lakes: 3
Irrigation System: Automated, in-ground
Driving Range: 5 target greens
Practice Areas w/ large putting & chipping greens
Full-service Clubhouse & Pro shop facilities
Rental carts & equipment will be available
Lessons will be available from certified Professionals
Green Fees: discounted for La Ventana Del Mar owners