SAN FELIPE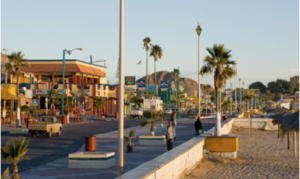 Unquestionably the premier destination on the west coast of the Sea of Cortez in Baja is San Felipe. It is about 120 miles south of the border.  Though sleepy, in comparison to its west coast counterparts, San Felipe has been a secret destination to those in the know. Activities for tourists are many and varied. They include world class fishing, boating, hiking, swimming, wind surfing, sailing, scuba diving, parasailing, and dune buggy trips, with restaurants and night clubs for evening enjoyment.
In conferences at El Dorado Ranch, Government officials offered a very optimistic outlook for San Felipe. They were very encouraged by developments such as El Dorado Ranch, and ensured the local community that the government stood fully behind these developments.
SAN FELIPE'S NATURAL ATTRACTIONS
Today greater awareness and interest in Ecotourism is ensuring a different attitude to the natural environment. Now we have the Upper Gulf of California Biosphere Reserve which is run by the Unesco Natural Biosphere Reserves Program.  The Valley of the Giants: Natural Reserve of the thousand year old Cardon Cactus. This area has become a major visitors attraction due to the selection of one of these giant specimens that was transported to Seville, Spain during World Expo '92. The area has also become a favorite spot for photographers worldwide as it is a superb background for photo sessions.
Konsag Island: Konsag is plainly visible from the beach at any point around the San Felipe bay, appearing at first glance to be a sail. It is reachable by boat in 45 minutes or so under normal conditions and it is a great place to watch sea lions, seals and colonies of sea birds.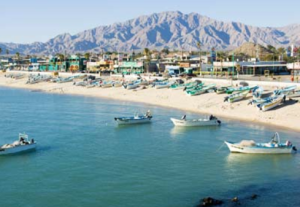 Punta Estrella: Punta Estrella has a breathtaking panoramic view beyond the meaning of the word as it encompasses the whole bay to the west and northwest and the Sea of Cortez to the east.
Puertecitos: Ninety kilometers south of San Felipe is a settlement called Puertecitos (little port) where thermal waters bubble and soothe. There is a small hotel, a gas station, a boat ramp and other services, including telephones.
Artificial Reefs: In March of 1991 the three levels of Government and the San Felipe community organized a Program of Artificial Reefs to attract fish and provide better sport fishing, with the addition of more spawning grounds and of more natural production of biological resources.
FISHING
World Class Deep Sea Fishing in the Sea of Cortez
The Sea of Cortez contains some of the finest fishing in the world. Fishing is available by boat or shore. The most common fish caught immediately off San Felipe is the Corvina or Sea Bass. Larger Sea Bass (Grouper), Triggerfish, and Snapper are typically caught "bottom fishing." Trolling is also a popular means of fishing and as you venture down the coast of the Baja, schools of tuna, yellowtail, dorado (aka: mahi mahi, dolphin fish), and billfish such as Marlin, are often taken by such means.
The Sea of Cortez has historically been an extremely productive habitat and fishing is deeply rooted into the history of San Felipe and El Dorado Ranch. In fact, San Felipe still remains a quiet fishing village today.
When you visit the Ranch, we will be happy to assist you in finding a guide, boat, and equipment for your fishing excursion.